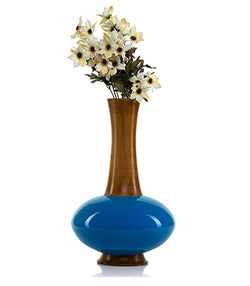 "Named for its shape, this cute vase has a blue protruding belly. The ˜Blue Belly™ is a turned teakwood vase with a moulded base & a funnel shaped flute both polished to offset the stunning egg shaped turquoise blue lacquered turned teakwood belly. The base & the funnel are crafted by turning on the lathe, polished naturally to highlight the grains of wood and create a contrast for the belly. The belly portion is shaped like an egg crafted in teakwood and finished with a brilliant blue in lacquer giving the product a luxurious and dramatically fun look.
Use this as a Centerpiece on a low centertable or the dining, a classic for side tables and consoles. Team it up with some white or contrasting pink flowers to bring out its best. Using a bunch of small flowers creates a perfect balance to its belly.
Decorating with vases is one of the easiest ways to add effortless style to your homes. With vases you can can show off fresh flower arrangements, display gorgeous stems and coloured twigs. They brighten up dull corners and become great conversation starters. Wood is a known material to add warmth & comfort to any space. Crafted in natural materials the vase comes with variations in its wooden grains, colour & texture. Being handcrafted leads to each piece being different than the other.
Note to Customer : being handcrafted, your product may have some shade and pattern variations. We recommend dry flowers.