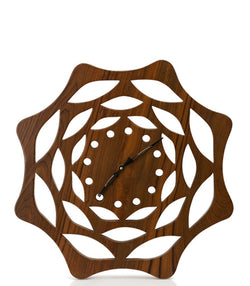 Align You time with HIIH™s meticulously hand crafted wooden clock The Chakra Time Piece, crafted in a pattern which balances solid and Void. The Timepiece has been masterfully handcrafted in teakwood, polished with love and fitting with brass golden hands. The piece is a battery operated clock with the Mechanism fitted at the back.
These Days our phones can tell the time but wall clocks can be a piece of art apart from their functionality. A clock can spruce up the look of any room, especially wooden wall clocks are making a huge impact in adding warmth into your space design. A clock is usually the first thing that you notice when you enter a room, hence a dramatic clock completes your décor.
Clocks make for excellent foreground piece for a feature wall. They come in a range of textures, carved faces and minimalistic looks for you to choose from, which is best suited for your interiors. Apart from being great investments for your self, they make excellent gifts which signifies a thoughtfulness behind the gift. Some wall clocks are so good in aesthetic value, that the make you forget their purpose is to tell the time. A round clock can break the geometry of a block rectangular wall and a carved abstract clock can add a dramatic touch to a highlight wall.
Apart from homes clocks make elegant and sophisticated décor pieces for office and studio interiors.